Waukesha Community
---
Living in a great community entails many things: good schools, unique houses, a thriving economy, places to play and be one with nature. One of the most important factors that make a community great is the people that live there. People are the number one reason why Waukesha is such an amazing place to raise a family, to grow older and to settle down.
On October 2nd, 2016 a 10-year-old, non-verbal Autistic boy went missing in the community. He was last seen in his SW Waukesha neighborhood and police were concerned because the Fox River runs very close to where he was last seen. First responders sent out K-9 units, a drone and heat-sensing equipment in order to find the boy. The special challenge was that the boy was afraid of strange noises and lights and there was the fear that they could scare him off before he was found.
That's when the community was called in to help, and what a help they were. Almost one thousand Waukesha residents joined the search for little Andrew, including our real estate team. Meeting at Waukesha West High School the day after the boy went missing, there were over 300 cars filled with volunteers, ready to find the boy. The amount of volunteers exceeded police expectations so much so that they had to stop accepting help.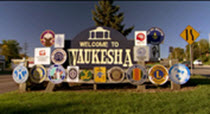 Through long hours and harrowing conditions, the volunteers kept up the search. They continued through a boggy marsh, exhausted as they searched relentlessly, hoping to bring the boy home safely. And, after 18 hours, they did just that and Andrew was found safe and returned to his ecstatic and grateful family.
His mother says she was overwhelmed with how many people showed up to look for her son and felt that it brought out the "humanity, perseverance" of the volunteers.
Living in such a great community, where people take time out of their day to help their neighbors, is what living in Waukesha is all about. This doesn't just have to be a story about people looking for a missing boy; the people of Waukesha are always willing to help, even with the little things, like a broken-down vehicle or when someone is sick. There aren't many places that you can call home, where you truly feel at home in your community, but Waukesha definitely is one of them.