Four steps for budgeting for your first move
---

Buying your home can definitely drain your bank account when you consider the down payment and closing costs, but one cost you still need to save for are the moving costs. While you might think those will be minuscule and that you don't have to worry, budgeting for your first move is an important step in ensuring you don't go into debt just moving.
Step 1 – Start by doing an inventory of what you have
If you are moving into your first home from your parent's home, you may not have very much, but you should still consider what it is. By doing this, you are estimating the size of truck you'll need, the length of time it will take to move your items and how many people you need. From there you can give an accurate estimate to the moving company (if using one) to determine what the actual costs of the move will be.
Step 2 – Find out how much help you will have
While you might think you have the best friends in the world, when it comes to asking people to help you move, you suddenly realize you might not have too much in terms of helpers. Start by sending out a group message asking for help and a confirmation (so they don't back out last minute) and then sending personal messages with offers of pizza and beer. Budget the cost of that pizza and beer into your moving budget, as it would be very embarrassing to ask one of your friends who are helping you move to spot you $50 for the pizza guy.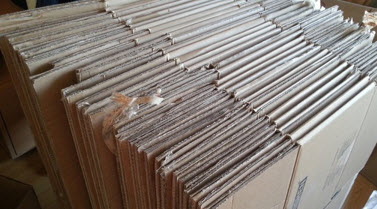 Step 3 – Figure out what you need to spend on packing materials
You can get away with spending very little here if you are willing to do some work. Moving boxes can be ridiculously expensive (they're just cardboard!), so if you can reuse boxes, that will be your least expensive way to move. Solicit stores in your area and get a personal relationship going with one of the employees, asking them to save you boxes with a regular pick-up from you. You need to start this process very early to ensure you have enough boxes before you move. As for packing tape, you can buy this from a discount shop and a tape gun is definitely an amazingly-helpful tool. Rather than purchasing Styrofoam packing, be creative. Items you can use to wrap breakable objects include:
Sheets

Blankets

Clothing

Towels

Newspaper
As well, you can place soft items (like stuffed animals, pillows, etc.) in the box with more fragile items so they have more cushioning and to balance out the weight of the box.
Step 4 – Consider buying new
If you have a number of items that are large, heavy and awkward, you might consider leaving them and buying new. Many stores offer free or cheap delivery and every little bit helps when doing less work for your move. This may seem counter-intuitive, but it will work if you are in the market for some new furniture anyway.
If you need any more moving advice, our door is always open.